MOB SALTZ NIC SALT
***PLEASE NOTE A MINIMUM OF 4 LIQUIDS PER ORDER***
£3.15
Description
MOB SALTZ NIC SALT
FREE UK DELIVERY***PLEASE NOTE A MINIMUM OF 4 LIQUIDS PER ORDER***
Mob Saltz e-liquid is available in 10 flavours and 2 nicotine strengths (1.0%, 1.8%) with a PG/VG ratio 50/50. Made in the UK.
MOB SALTZ NIC SALT Flavours:
Al Capone (Raspberry Ripple) – Sharp raspberry enveloped within a smooth vanilla ice cream.
Angelo Bruno (Mint With a Hole) – A sweet mint flavour inspired by the popular confection.
Carlo Gambino (Misty Blue) – An intense mix of peppermint with juicy blueberry.
Carmine Galante (Tutti Frutti) – A Sweet yet sour blend of tangy fruits.
Frank Costello (Ice Mint) – A refreshing blast of ice-cold mint.
Joe Bonanno (Amethyst) – Icy cool menthol with sweet blackcurrant.
John Gotti (Golden Tobacco) – A rich yet smooth, deep and earthy tobacco.
Lucky Luciano (New York Dream Cake) – Creamy vanilla cheesecake with a buttery biscuit base.
Meyer Lansky (BlackJack) – Tasty liquorice and aniseed with a cool menthol finish.
Vito Genovese (Mixed Berries) – A delicious blend of tangy mixed berries.
Product Features:
Nic salts give a smooth vape, particularly useful for those who are used to smoking.
Manufactured in the UK.
DON'T FORGET TO ADD OUR FAMOUS E-LIQUIDS e-cig-liquid
WilsonsVapes Facebook Page
Click
You may also like…
Featured
WISMEC R40 POD MOD
£

33.99
Sale!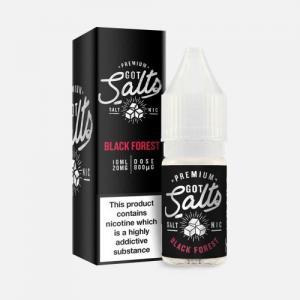 GOT SALTS E-LIQUID
£

3.00