Top 5 E-cig Starter Kits
WilsonVapes.com
Welcome to our brand new blog, we will discuss everything from the latest tech to old Skool classics. From nic salts to shotfills and all the essential accessories for the vaper in your life.
Firstly we want to address where to start, new to vaping and no idea what's best for you, read our guide below for the definitive collection of all that's available to the vaping beginner.
Top 5 E-cig Starter Kits
There is a reason the TECC arc 5 is the biggest selling Ecig kit since in release. Released back in 2018 no other e-cig kit has sold more units than this masterpiece from TECC. TECC themselves describe this kit as "The backbone of the TECC hardware range".
The arc 5 kit is excellent value, has great battery life and delivers an exceptional vaping experience. The arc 5 retains the large 2200mAh integrated battery, 40 watt power output and sub-ohm capability of its predecessor.
Simply put if your looking to move from smoking to vaping this kit is the perfect starter. Simplicity is at its core with a 2200 mAh integrated battery, large enough to last most users a full day of vaping, the well designed CS air slim tank takes the CS atomiser range, giving a flexible vaping experience and the facility to easily change when required without been Ecig tech genius.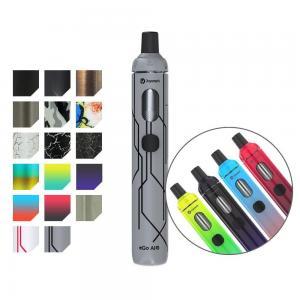 Joyetech brings it very own entry to the vaping beginners table. The joyetech eGo AIO is as pen style device with a sleek design and vibrant colours. The eGo AIO is a all in one kit using the highly regarded BF atomizer heads and leak resistant tank design, a great kit for customers new to vaping.
The eGo AIO shape lends itself to smokers looking to move away from smoking cigarettes, the familiar shape along with other similar smoking attributes allow a simple transaction form smoking to vaping.
Packing a internal Battery capacity of 1500mAh and a Tank capacity of 2ml the eGo AIO has everything a vaping beginner requires.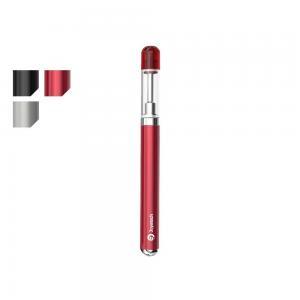 Our second entry by Joyetech is the ERolll mac, The Joyetech eRoll MAC combines discreet, small size with incredibly high-quality engineering and a superbly sensitive automatic switch. The Joyetech eRoll MAC is easy to use with a simple screw top filling system, and a high-quality disposable tank with full metal and glass construction.
Ergonomically the closest Vape kit to a every day cigarette the ERoll mac will be a comfortable way to switch from smoking to Vaping giving Familiarity in both feel and vaping experience.
Key facts regarding the ERoll mac – Tank capacity – 0.55ml, Atomizer resistance – 1.5ohm, Battery capacity – 180mAh, Output mode – Constant Voltage, Dimensions – 9.2mm x 100mm, Assembled weight exc. packaging – 17.3g approx.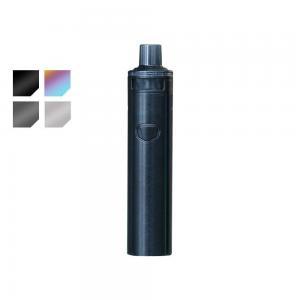 The Eleaf iJust AIO is a personal favourite of all us here at WilsonsVapes. Anyone who has followed our social media posts will have seen the extensive testing we have put this title device through and the amazing results it has given us including surviving a adventure into a sink full of water. A great looking, low cost pen-style device with a clever magnetically retained pod.
Three power settings are available from the iJust AIO's long lasting integral 1500mAh battery.
Pod capacity – 2ml, Coil resistance – 0.6ohm mesh, Resistance range – 0.3-3.0ohm, Max. output wattage – 20W, Battery capacity – 1500mAh, Max. charging current – 1.0A, Dimensions – 102mm x 22mm (dia.), Assembled weight exc. packaging (approx.) – 61g.
Joyetech have made a whole EGRIP range Aimed at covering all types of vaping requirements and it begins with the EGRIP mini. The Joyetech eGrip Mini is mainly aimed toward customers looking for a secondary e-cigarette, specifically mouth to lung vapers, but may also suit some new users.
The Joyetech eGrip Mini combines small size with functionality. A handy 1.3ml tank capacity makes this a great all day vape, the simple plug and play style cartridge allows for easy refill and exchange of atomiser.
Small but perfectly formed, a jewel of a pod with Long battery life and USB-C fast charging And 2 outstanding easy to fill cartridges for MTL or DL.